TRANSLATED TO ENGLISH:
Even a coup carried out by our national Géron Francis in Wednesday, June 12th, because after we have programmed Michael Schenker on May 10 and 27 Uli Jon Roth is with UFO aficionados of the genre that have not been chance to see the great original formations evolve in the blessed time when everything was almost or Rock will finally close the Scorpions / UFO loop.
In just one month Francis has offered us (look for the link) not less than four members of Scorpions with Michael Schenker, Uli Jon Roth, Francis Buchholz and Herman Rarebell and 4 UFO with Michael Schenker, Phil Mogg, Paul Raymond and Andy Parker .
Hard to beat.
UFO was to return in '66 walls literally dripped with sweat last night with public came in droves, sold-out posted on my information.
The british UFO that he always lacked a little something to go in the forefront alongside Led Zeppelin, Black Sabbath or Deep Purple, to name a few, we had a serious hand because during their last passage, the voice of Phil Mogg was downright conspicuously absent and the concert was downright wobbly, other members of the spacecraft failing to raise the sauce.
Yesterday evening, it is in a mode very "stiff upper lip" dear to English Phil Mogg led his flying saucer good port, the voice was back and the typical humor of the inhabitants of the perfidious Albion has certainly not been seen in all its intricacies by the majority of the public but who cares.
Yes Phil, born in Wood Green (London) April 15, 1948 still proudly carries the torch of UFO frontman despite his 65 years, and it sounded good, somehow, due to the spare time of recovery, especially in the type of furnace that was the '66 last night.
Great venue for a show of 1:45 which was a sort of "Best Of" UFO because most of the 14 songs performed can be found on the legendary "Strangers in the Night", released in 1979.
Still remember the band's discography currently has no less than 30 albums since "UFO 1" released in 1970.
Attack on "Lights Out" which is my favorite song of the English quintet.
The rant is closely tailed by "Mother Mary." Followed by "Fight Night" and "Wonderland" extracts "Seven Deadly", latest album.
It's always good for the brand stamped UFO from the first riffs of Vinnie Moore's trademark is recognized.
Then comes a "Let It Roll" fire of God will still make the temperature a few degrees up.
Phil is verve and justifies his frequent by goblets of beer arranged behind him that "whatever you sweat, it must be replaced by something."
Look in the front row where our man, always green, spotted like everyone tonight, a blonde in black top stamped UFO sculptural.
This piece of fabric is desperately trying to complete the mission impossible to conceal large breasts to a leering crowd composed mostly of males.
Briefly, after the rave reviews that Phil says "I did not look into the sun" (liar) generous benefits in kind lady are no longer Unidentified Flying Objects for anyone.
The concert is still going on this humorous and very relaxed that characterizes this evening Hard Rock pure.
Vinnie Moore, for those who do not yet know is a born killer on guitar and this is without calling layers that we will prove once again throughout the evening.
The native of New Castle, State of Delaware, USA is a monster technique and he knows to appreciate the exceptional feeling.
It is in "Rock Bottom" it will kill the skeptics if by chance there was still.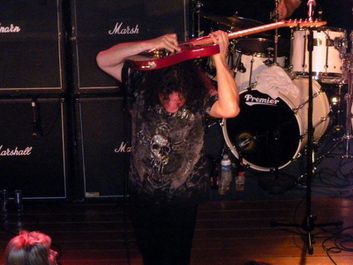 Icing on the cake, the man plays with the guitar sometimes placed on the skull, sometimes in the neck and "the fact that" as we say nowadays.
Then there are two points that are the hit "number one" of the group: "Doctor Doctor" sung by the cheering crowd and then the equally famous "Shoot Shoot" which will be preceded by a short detour shaped wink 'look at "La Grange" by ZZ Top.
I say this for those who still would think the title is "haw haw haw haw" as I heard around me.
Great evening and relax music.
Damage that musicians do not make the effort to go through the merchandising also unfortunately lacking the last album "Seven Deadly". Another good evening Verviers.
Lineup: Phil Mogg: Vocals Andy Parker: Drums Paul Raymond: Keyboards, Guitar and Backing Vocals Vinnie Moore: Rob De Luca
Setlist: 01. Lights Out.02. Mother Mary. 03. Fight Night.04. Wonderland.05. Let It Roll.06. Burn Your House Down.07. Only You Can Rock Me.08. Love To Love.09. Hell Driver.10. Venus.11. Too Hot To Handle.12. Rock Bottom.13. Doctor Doctor.14. Shoot Shoot.
©2013 - Mitch Zoso Duterck